Background
I'm currently in my third year of running my handmade business, Woolly Bear Knits. I opened my Etsy shop in January 2019, and I'm currently prepping for my third holiday season. I primarily sell hand knit hats and cowls, as well as knitting patterns that are available as digital downloads on Etsy and Ravelry. Because I sell knitwear and knitting patterns, my products are very seasonal, meaning I don't sell much, if anything, from March - September. Instead of feeling frustrated about slower sales during these months, I use the spring and summer to prep for fall. I'm sharing all the things I did to prepare for the busy season with you, in hopes that it helps you as well. 
Since my business is knitwear and I primarily sell on Etsy, some of my tasks are specific to knitwear and selling on Etsy, but I'll try to generalize the tips so they're relevant for all handmade business owners. I primarily market my business on Instagram, but am working to build out my email list (sign up here!) and Pinterest account this year.
Want it in checklist form? Click here to download my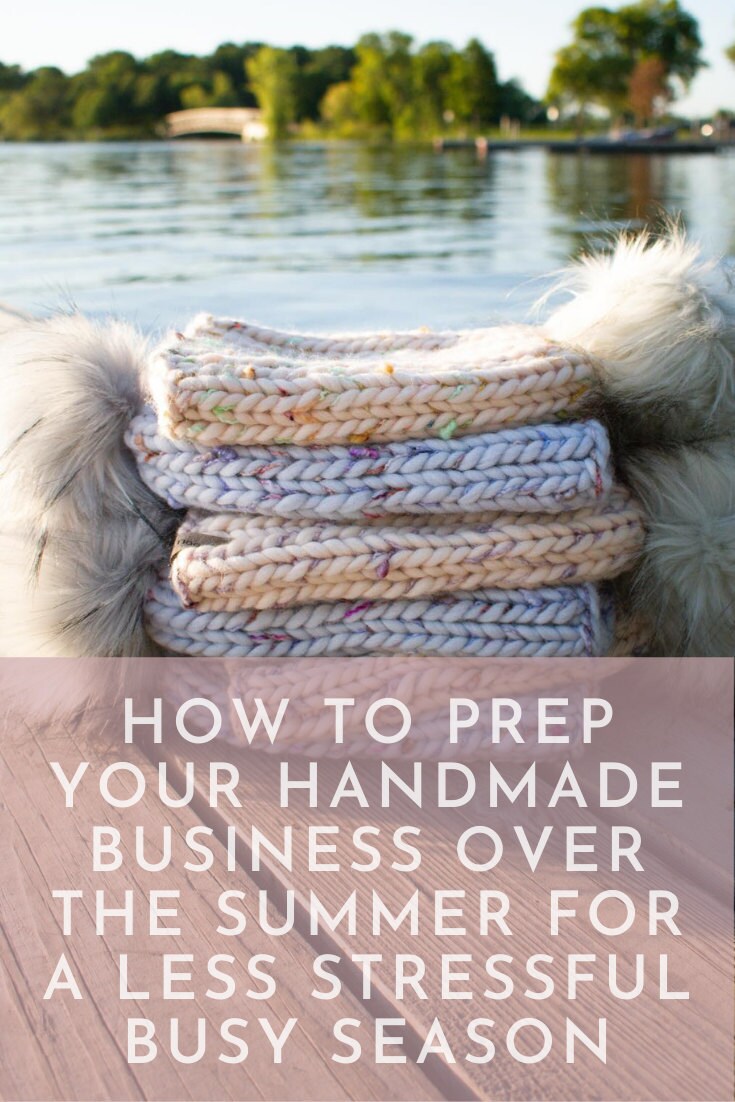 What I've Learned
A major lesson I've learned in my first two years of business is to narrow my product lines. I have always sought to have a cohesive, focused business, but at times I do feel ideas creeping in that I want to jump on and add to my product offerings (wall hangings, macrame, baby/kids knits, etc.). However, when I have done this in the past, honestly they haven't been great sellers for me. It could be that my customers and followers I've attracted are most interested in my core product line (hats and cowls), or that maybe I just haven't put the right amount of effort into marketing my random ideas. This year I'm going to satisfy those creative urges by gifting the items that aren't part of my core offerings to family and friends, not to sell.
Therefore, in 2021, I've really forced myself to stick to a smaller color palette as well as a smaller selection of styles so that I can work more efficiently. I realized how much of a time drain it is to search and order new materials, as well as photographing and listing each new color or style. Every time you add a new product, you have to consider the time it will take you to order supplies, photograph the product, market the product, and write copy for your website/Etsy shop. By honing in on a smaller color palette and style offerings, I've been able to work much more efficiently and be less stressed this year.
The second major lesson I've learned is instead of trying to force sales in my off-season, I've decided to use that time to prep for the busy season. Thankfully my family does not depend on my income from my small business, and for me it's meant to be more for fun, extra income for fun stuff like travel, and a way to keep my mind engaged and hands busy while I take a break from my corporate career to be home with my preschool-aged son. I needed to remind myself at the beginning of 2021 that this is supposed to be fun, not stressful. As I was thinking in the spring of 2020 how I could be more efficient in my next holiday season, I found this podcast episode by The Merriweather Council to be especially helpful. Here are some of the things I did in summer 2020 to prep for my fall and winter busy season.
Decide Where and How to Sell Products
Use this slow season to decide on how and where you'll sell your products. What online platforms will you use? Use this time to set them up. Will you sell via wholesale accounts or consignment stores? Use this time to reach out to potential stores, bring in your products, and apply to be a vendor. If you offer wholesale accounts, set up your linesheet and policies. Will you be a vendor at craft markets? Do the research now on which ones you'll apply for, plan out your calendar, and apply to be a vendor. A good way to research craft markets is by attending them! I find a ton of events on Facebook. Grab a friend and visit, taking note of what type of displays vendors have and whether your products will be a good fit for the event. I sell primarily online via my Etsy shop and website and at 3 consignment stores and 1 wholesale account. Due to the pandemic, I did not participate in any in-person markets in 2020, but I am part of two virtual markets. In April, I just refreshed my listings on the two virtual markets I participate in while sales are slow so I'm reading for the holiday season there. Currently I do plan to participate in a few in-person markets in 2021 now that I'm vaccinated.
Make Product
Make, make, make! If you've been in business for at least one year, make sure you have an idea of how much you sold last year. Then use this as a guide to know how much product to make for your busy season (and don't forget to add more if you're planning that your business will grow!). Unless your products are made-to-order, you can make them all in advance for a less stressful busy season. If you do offer made-to-order, or you just don't have time to stock up on products, AT LEAST make one of each product in each color that you offer so that you can photograph them now (see the next point below about photography).
Last summer, I worked to knit as many hats as I could for my online sales as well as consignment stores. I have a spreadsheet of how many items I sold by online vs. store, and how many I sold per month. I used this to create goals of how many products to make for 2021. Since it's only spring right now, I am currently working on making stock for my Etsy shop first, then will transition to making products for my consignment store accounts and wholesale accounts (their orders are due in July). There were a couple of hats that I made too many of that didn't sell well (oops!) but for the most part I was able to spend most of the busiest time of year (Thanksgiving through mid-December) just filling orders!
A huge time drain for my specific business is little things like attaching the suede tags, faux fur pom poms, and hang tags to my hats. In the past, I did this as I completed each hat, but I haven't done that this year so far. I'm considering hiring an intern or student to help me with it this year, so I can focus on knitting.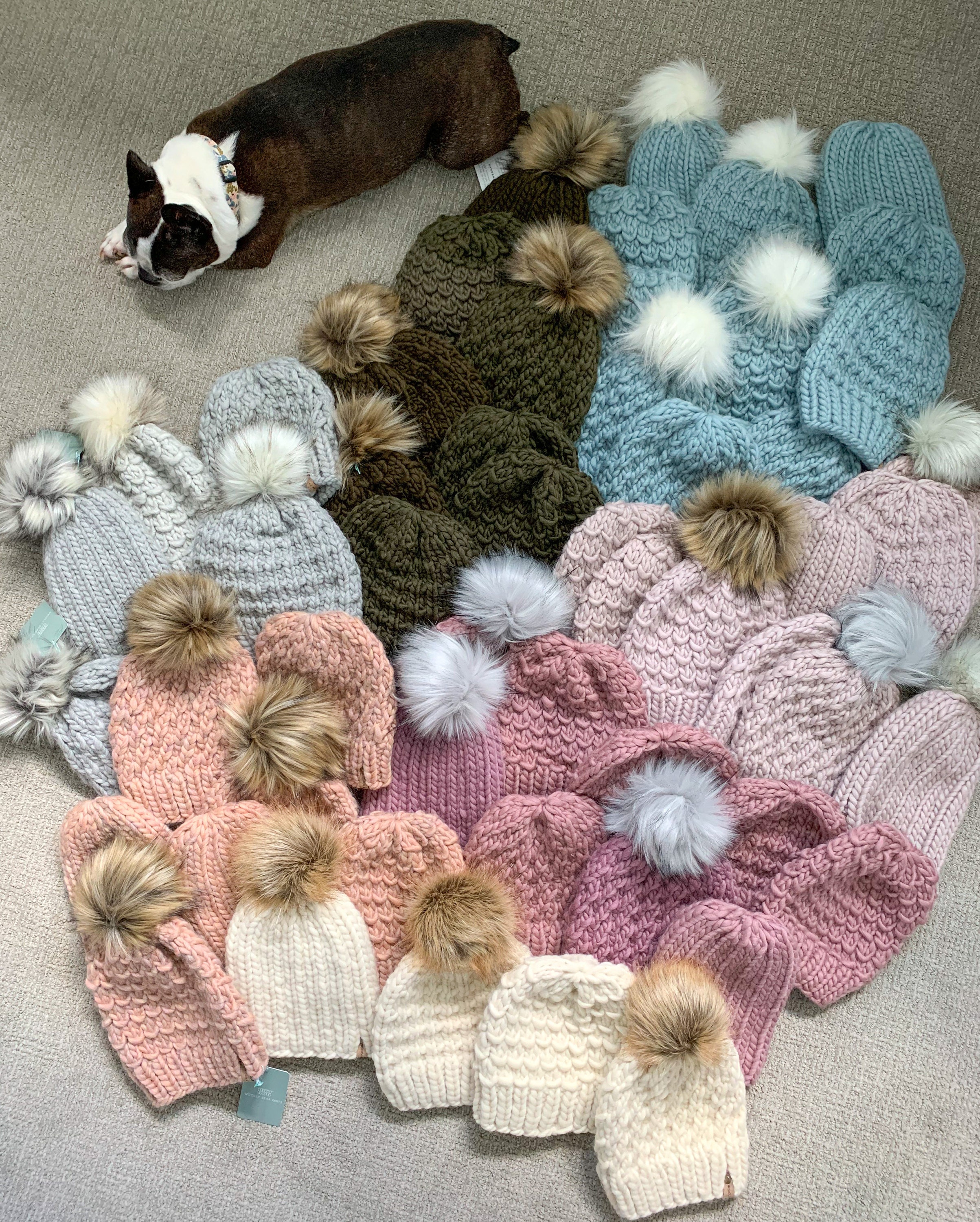 Take and organize photos/videos
If you're not a professional photographer, I'm sure you'll agree that taking, editing, and organizing your product photos is not the quickest task. Use the slow season to take photos, edit them, and organize them in a way that makes them easy to find in the future. I often repurpose photos to use across Etsy listings, social media, Pinterest, and email marketing. I always try to take photos from a few different angles so I have lots to pick from and am not using the same exact photo over and over again on social media.
In 2020, Etsy added a feature where you can add videos to your listings. Because I wasn't doing an in-person selling in 2020, I loved this idea and thought it would be an awesome feature for my customers so they can see the fit of my knit accessories. I recorded and edited these all over the summer, and added them to my Etsy listings.
This year, I worked with a professional photographer in February to take product and lifestyle photos that I can use in my Etsy shop as well as social media, Pinterest, and email marketing. It was a huge investment of money, but will make my life so much easier this fall and winter. Having professional photos taken solidified my earlier point of having a narrow product offering - the more products you have to photograph, the more costly it is!
Set Up for Administrative Success
Set up online selling platform(s) Do you need a website? Will you sell on Etsy? If so, set that up now! You can keep you listings "Inactive" until you're ready to share them with the world. If you're new to Etsy, you can use my referral link for 40 free listings. 
In summer 2020, I decided to set up a website. While Etsy is working just fine for me right now, having a website lets me drive traffic to my own listings (versus Etsy that will show the viewer other "similar listings" from other sellers sometimes above your own listing), as well as set up shopping on Instagram. In order to set up shopping on Instagram, you need to have your own domain, so this feature will not work if you only sell on Etsy. I did decide to use Etsy's website option, Pattern, to create my website. It's somewhat limited in design and functionality, but I like that it syncs with my Etsy listings to allow me to manage my inventory very easily. The cost is $15 USD per month, so it's a very reasonable price for how little work I have to do to maintain it. 
Create Etsy listings or product listings for your website. 
Adding new products? Take this slow time to write the listing descriptions, research key words for your Etsy tags, and add photos.
Set up email marketing
We all know our social media posts don't get seen by all of our followers. Be careful not to build your business and marketing efforts on social media only. Email marketing is a good way to get your customers' attention. I currently use Mailchimp (the free version) for email marketing and it works well enough, although I would like to explore other options. My goal for the summer is to come up with a more solid email marketing plan. 
Graphic design
Do you need to update your logo or branding? Now is a great time to work with a graphic designer (you'll likely end up going back and forth a lot, so now's the time!), or get to learn Canva and learn to create your own graphics. 
Get your books in order for tax season
I personally use Paper & Spark's Etsy Seller Spreadsheet to track my revenue and expenses. I know a lot of makers use Quickbooks (I don't, so can't personally recommend it), and often Etsy sellers can get a discount on Quickbooks.
Order Supplies and Packaging Materials
One thing 2020 taught me was to hoard materials! I'm typically a minimalist and order just what I need when I need it, but the shipping delays and yarn shortages of 2020 have changed my perspective a bit. I've tried to order more supplies in bulk in 2021, which cuts down on my stress as well as shipping costs. 
In addition to the supplies you need to make your products, some things you might want to consider stocking up on: mailers, shipping printer labels, stickers, tissue paper or packing materials. You can also use your slow time to design hang tags and thank you cards that you'll attach or include with your shipments. I design my tags, stickers, and thank you cards in Canva, then print them at Moo, which are super high quality. Use my link for 25% off your first order!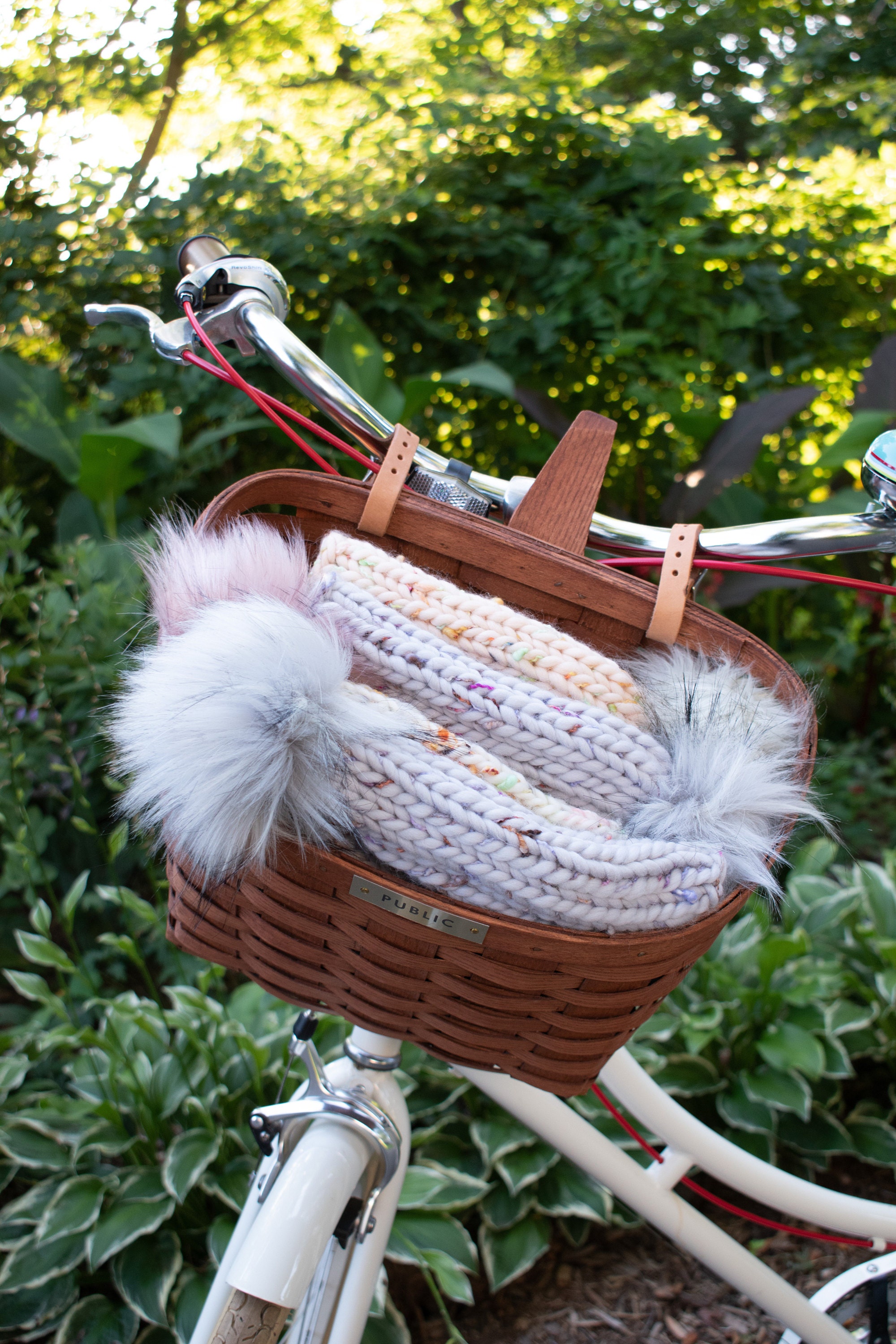 What I wish I would have done in 2020, that I plan to do in 2021
Have a defined custom order process
In my second year of business, I got many more requests for custom orders (specifically colors I don't typically offer, as well as kids' sizes). Most of these requests were from previous customers or personal friends, so I had a harder time saying no to them. Yarn was SO hard to find in 2020, so I spent so much time searching for the color they requested. In 2021, I plan to offer custom orders early in the season only, and communicate this timeline and process to my customers. That way, I can still accommodate them, but it will be on my schedule so don't feel scrambled trying to find materials and knit during my busy season. 
Better plan marketing content and sales
I hope to work out a more organized marketing schedule for the fall. Sometimes I feel like I'm just throwing random photos up on Instagram or sending last-minute emails to my email list. I hope to use August to plan out my marketing schedule and write up copy that can be repurposed for email marketing and social media.
Create a media kit
A few times last fall I was lucky enough to be featured in a few local gift guides and a local TV show, as well as do a trunk show with my knitting designs at my local yarn store. On my to-do list currently is to create a media kit. A media kit is a pre-packaged set of promotional materials that provide information about your business and can be distributed to media for promotional use. By having this, I can just send it out when someone features my business, instead of having to rewrite all the information over and over again. I found Katie Steckly's video helpful about what should go into a media kit.
Stockpile materials
I mentioned it above, but I felt like I was constantly running out of materials and packing supplies in 2020, then waiting forever for the ones I ordered to arrive. I'm ordering more than I think I "should" in 2021 and keeping fingers crossed my business continues to grow!
I sincerely hope this helps you plan for your holiday season in 2021. And if you feel frustrated that sales are down during that summer slow season, please don't feel alone! Channel those feelings into doing something productive that will serve you well in the future.
Get the checklist
I created a one-page checklist with all this info too! Grab it here.
Want my "tools of the trade" list that I use to run my knitwear business? Grab it here.