Do you know the Scandinavian saying "there's no bad weather, only bad clothing?" Well, that gets me through our endless winters in Minnesota. I love to be outside all year round, but honestly it's only fun when you're comfortable! I found that the right clothing really helps, so I wanted to share my favorites with you to inspire you to get outside no matter the weather.
Note: this post contains some affiliate links. This means I may earn a small commission if you purchase, at no additional cost to you. I only share links to products I truly love and think are high quality!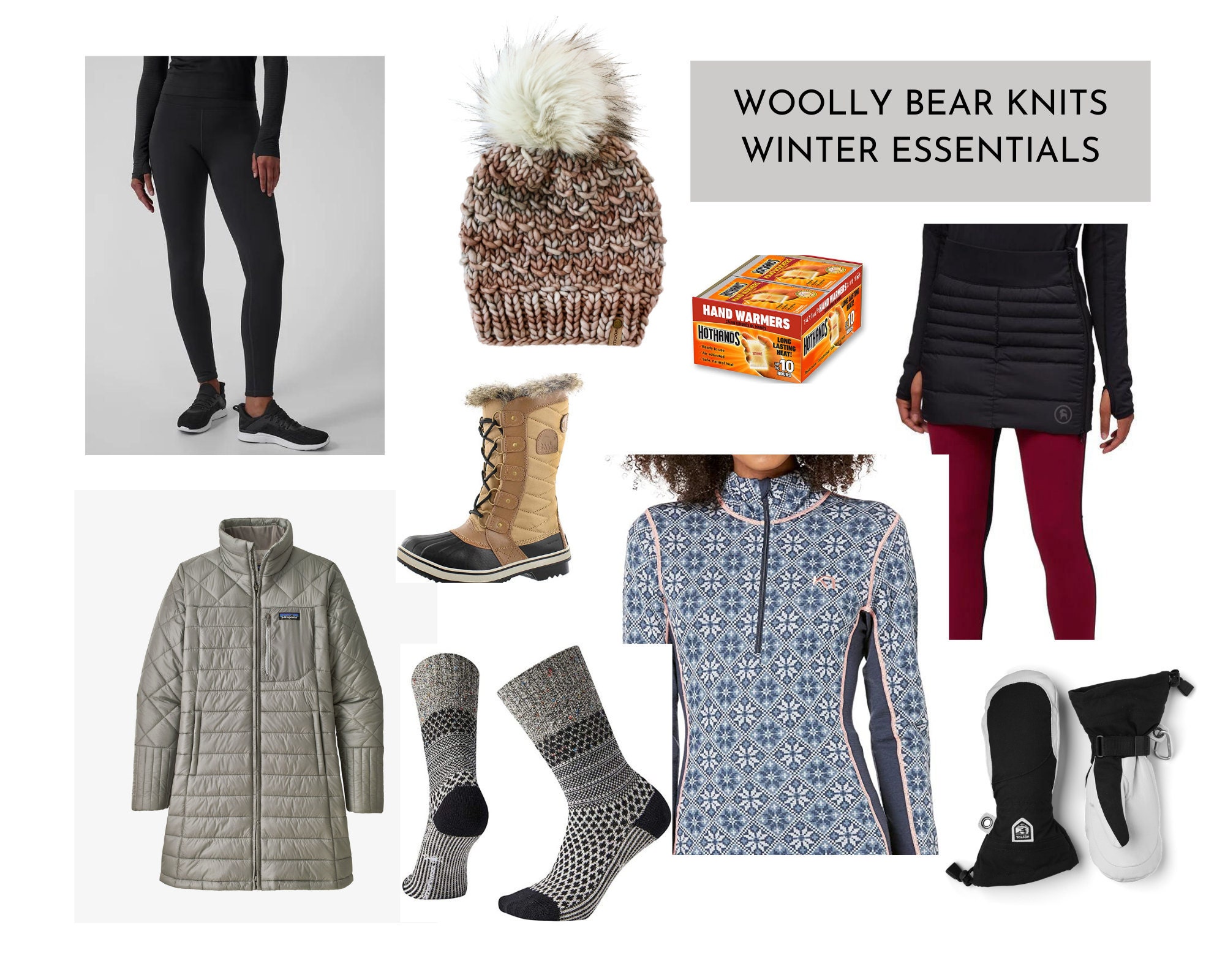 My Favorite Cold Weather Gear
Base Layer
I love merino wool for its softness, warmth, and breathability! I have a few Smartwool base layer shirts, and recently added this one from Kari Traa to my line up. I'd say pick your regular size for a close fit, or size up for a more roomy fit.
Fleece Lined Tights
Everyone loved these when I shared them last year! These fleece tights from Athleta are my favorite. They're so cozy and warm, and I have two pairs. I find Athleta sizing to be a bit inconsistent, and my pairs are at least 3 years old so they could have changed since I bought them, but I have my typical size in these. 
Merino Wool Socks
Yes, again with the merino wool! I love these Smartwool socks and have at least 6 pairs. After wearing them daily all winter, I do find the bottoms to wear out after about a year. Maybe not the best value for the price, but my feet are always toasty warm. One tip is to find last year's colors on sale at Backcountry.com. 
Down Skirt
This is my most recent edition to my winter wardrobe and I don't know why I waited so long! This down skirt from Backcountry zips off, so it's easy to remove. The sides are stretchy so it's comfortable to sit in. I wear it over regular leggings when it's just a little cold (perfect for a trip to the yoga studio) or over the fleece tights mentioned above when it's super cold. I ordered my typical size. 
Boots
For snowy adventures, I love my Sorels. They're very warm and comfortable to walk in. I find Sorel runs a bit small so to allow for thicker socks, I sized up half a size from my normal shoe size. For running errands in snow and slush, I have the Sorel Explorer which are super cozy, and Sperry Saltwater duck boots which are warm and have a nice waterproof toe. 
Coat
Honestly I have about seven winter coats, because when you live in a cold place, that's pretty much all people see you in for 5 months of the year! My favorite recent editions have been the Patagonia Radalie jackets (yes, *jackets*, I have two: the long and the short version!). They are warm and I love the sleeve detail, along with the fleece lined cuff and neck. I love that the long version has a double zipper so you could unzip from the bottom which helps you move more easily. 
Mittens
A few years ago, I asked my husband to get me "the warmest mittens you can find" for my birthday. He got me these ski mittens from our local ski shop, which are pretty warm! Honestly my hands freeze no matter what, so if I'll be outside for a while I like to tuck in these HotHands handwarmers, and problem solved!
Wool or Merino Wool Hat
And of course, to top it all off I always wear one of my Woolly Bear Knits hats. I knit with the highest quality, ethically sourced yarn I can find, and I love the breathability of natural fibers like wool and merino wool. I've been wearing this one daily in the winter for 3 years now and it's been holding up great.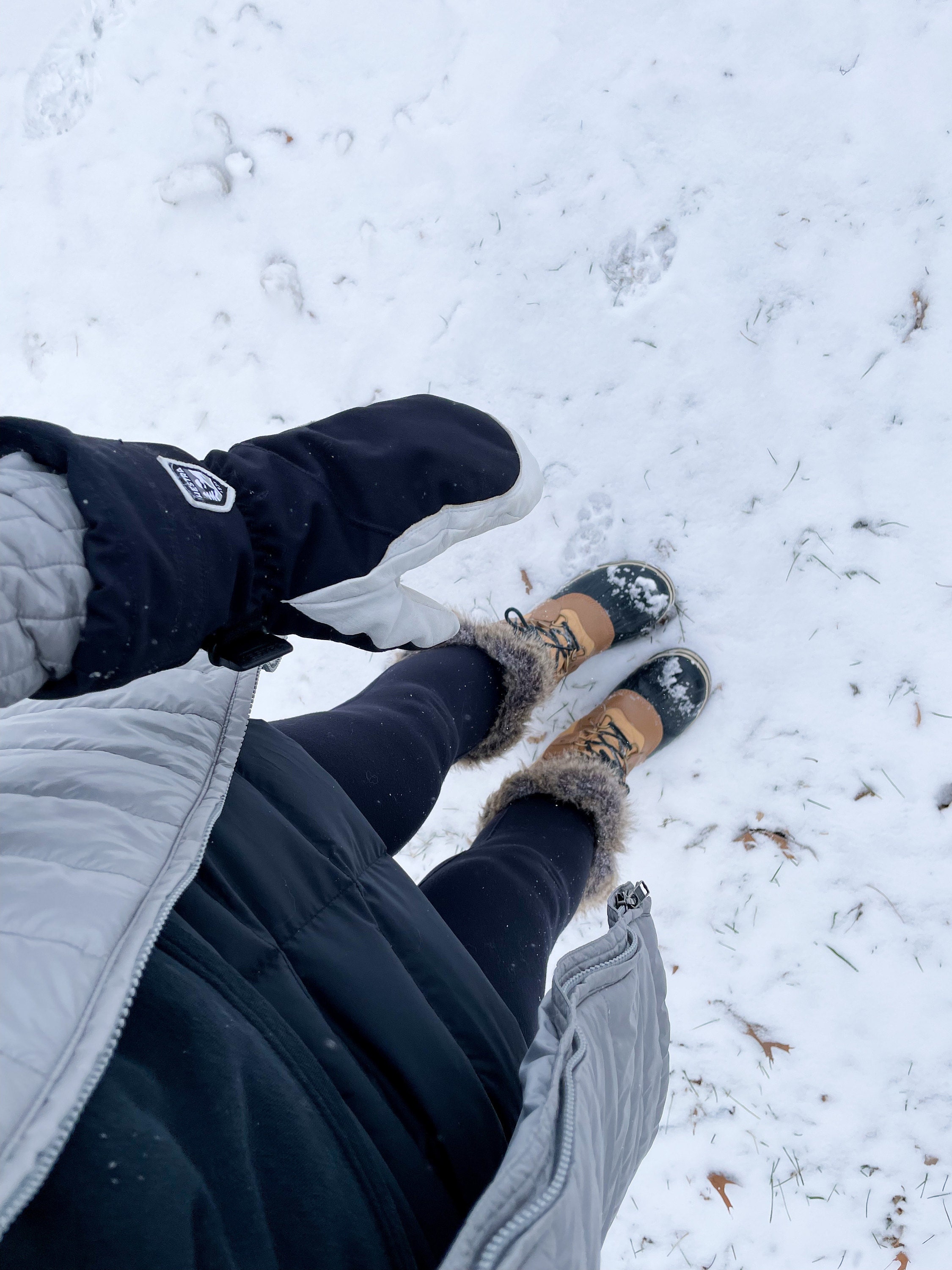 Thanks for reading about my favorite winter gear. I hope this helps you stay warm and get outside this winter!