Check out what's returning, and what's new at Woolly Bear Knits this fall!
When September 1 rolls around (which happens to be my husband's and my wedding anniversary), I consider it fall! There's a huge update of hats and accessories on the website and I'm excited to share what's new with you! You can view a try on video of all Fall/Winter 2020 styles here. 
Shop all knits here. Read on to learn more!
Headbands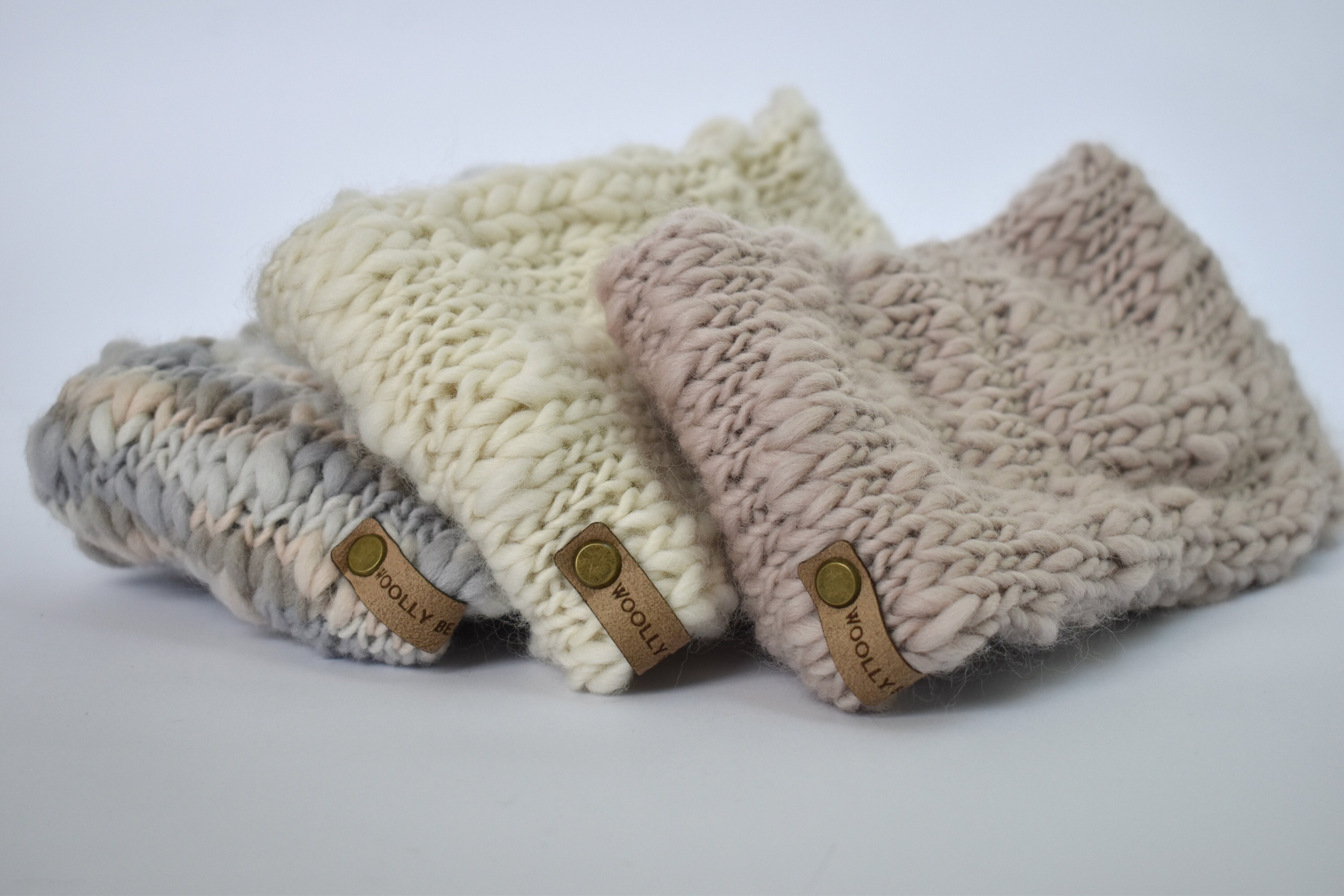 The wool headbands were a big seller last year, and they're back again! Perfect for those crisp fall mornings, or for people who wear their hair up often and don't like hats. The twist in the front is adjustable, so you can style it in the front or on the side. 
New this year are these gorgeous textured headbands. Available in three colors, they're made of a unique thick-and-thin 100% Peruvian wool. I've been really inspired to add unique textures this year, so here's my spin on that!
Peruvian Wool Hats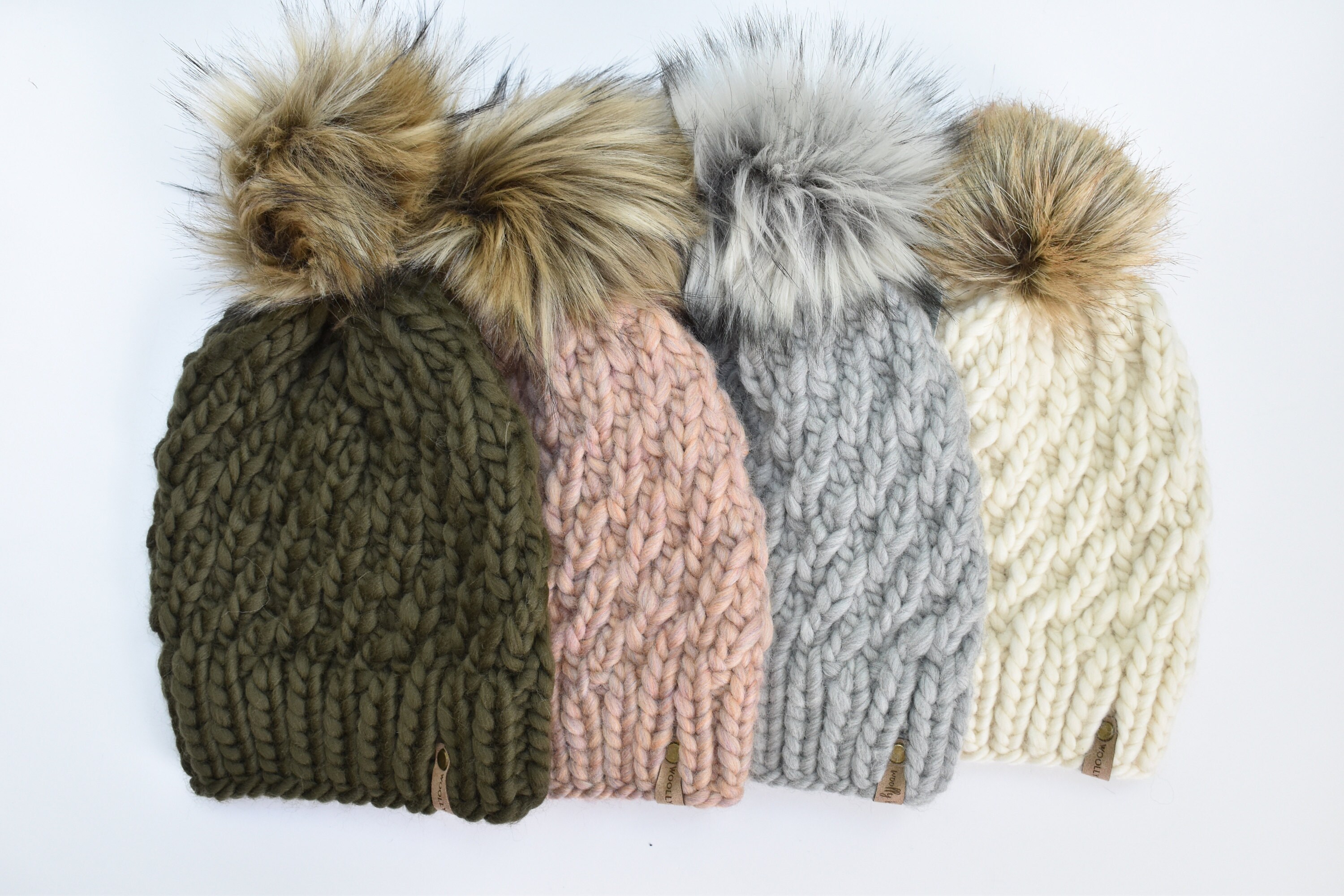 Classic, cozy, warm: these are back again this year too. Made with high quality, sustainably sourced Peruvian wool, your heart and your head will feel good about wearing this hat. This yarn is 100% mulesing-free, biodegradable, retains its shape, and naturally insulates your head to keep you warm, but not sweaty. My supplier uses Oekotex certified dyes as well, meaning they have been tested for harmful substances and are harmless for human health. 
Want a matching Mommy & Me set? Send me a message to request a custom order. 
Merino Wool Hats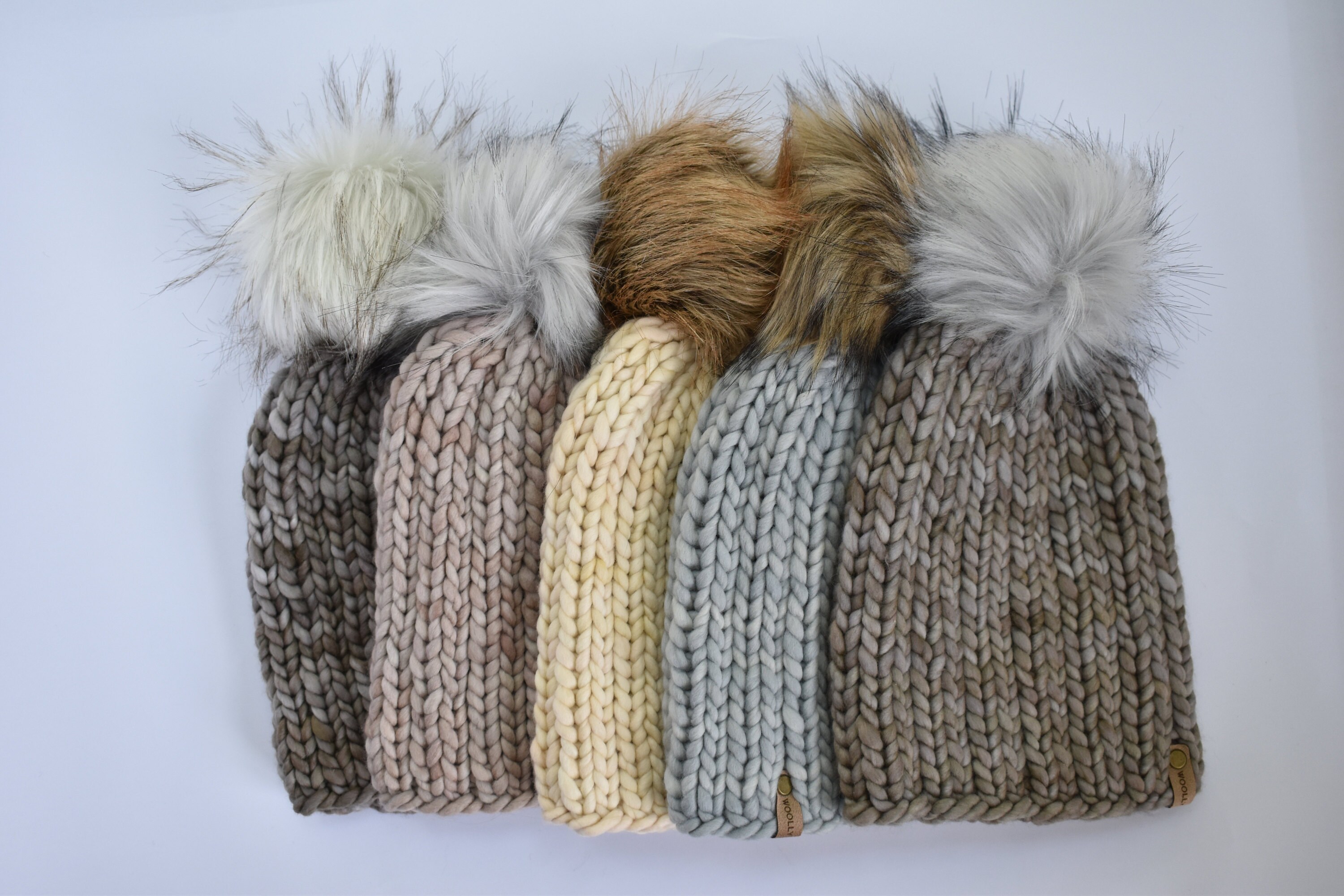 Squishy, plush, comfy: you will not believe the softness of these hats. Knit with merino wool from free-range sheep in Uruguay and Peru, this yarn is hand-dyed in tiny batches of five skeins, so each hat is truly unique. Merino wool comes from the merino breed of sheep, whose wool has finer fibers than typical wool. It's naturally moisture-wicking and odor resistant. It's the perfect option for your outdoor adventures because it's breathable while being warm. I wore mine hiking eight miles in Banff last fall and didn't get sweaty once!
Hand-dyed Merino Wool Beanies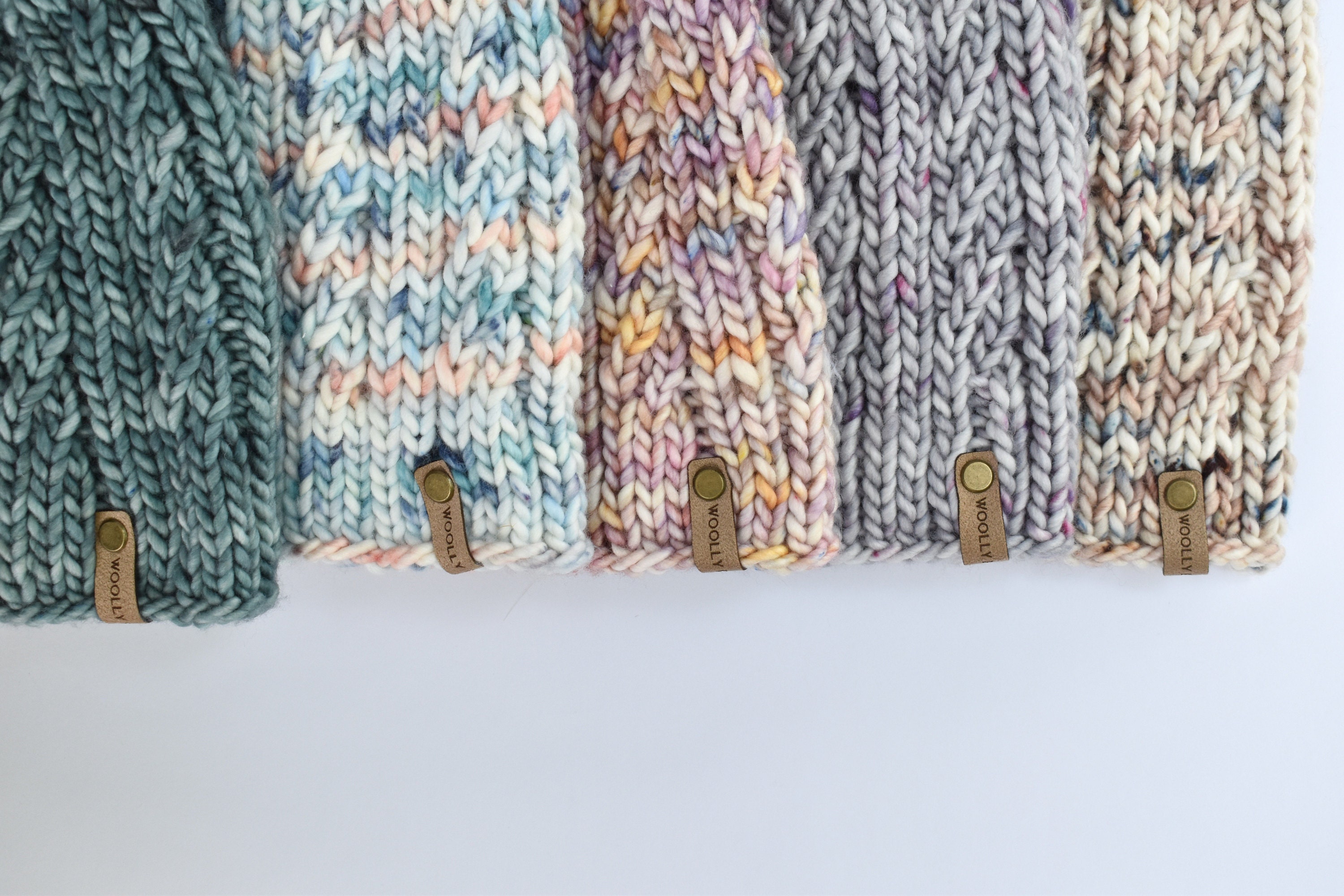 Something special has arrived! This collection of one-of-a-kind beanies is all made with hand-dyed merino wool from independent yarn dyers. Because I only bought one or two skeins in each color, they're all truly one-of-a-kind and won't be repeated!
The hats in this collection are a bit lighter-weight than my other super chunky knits, so if you like your hats more fitted or you have a smaller head, these are perfect for you.
As you may know, I'm passionate about supporting other makers, and when you purchase one of these beanies, you're not only supporting my business, you're supporting three! The indie yarn dyer who made the yarn, pattern designer who wrote the knitting pattern, and me who knit it up! 
These beanies look great with or without a pom pom. As always, you get to choose your pom pom at check out.
Shop the one-of-a-kind collection
Sunrise Cowls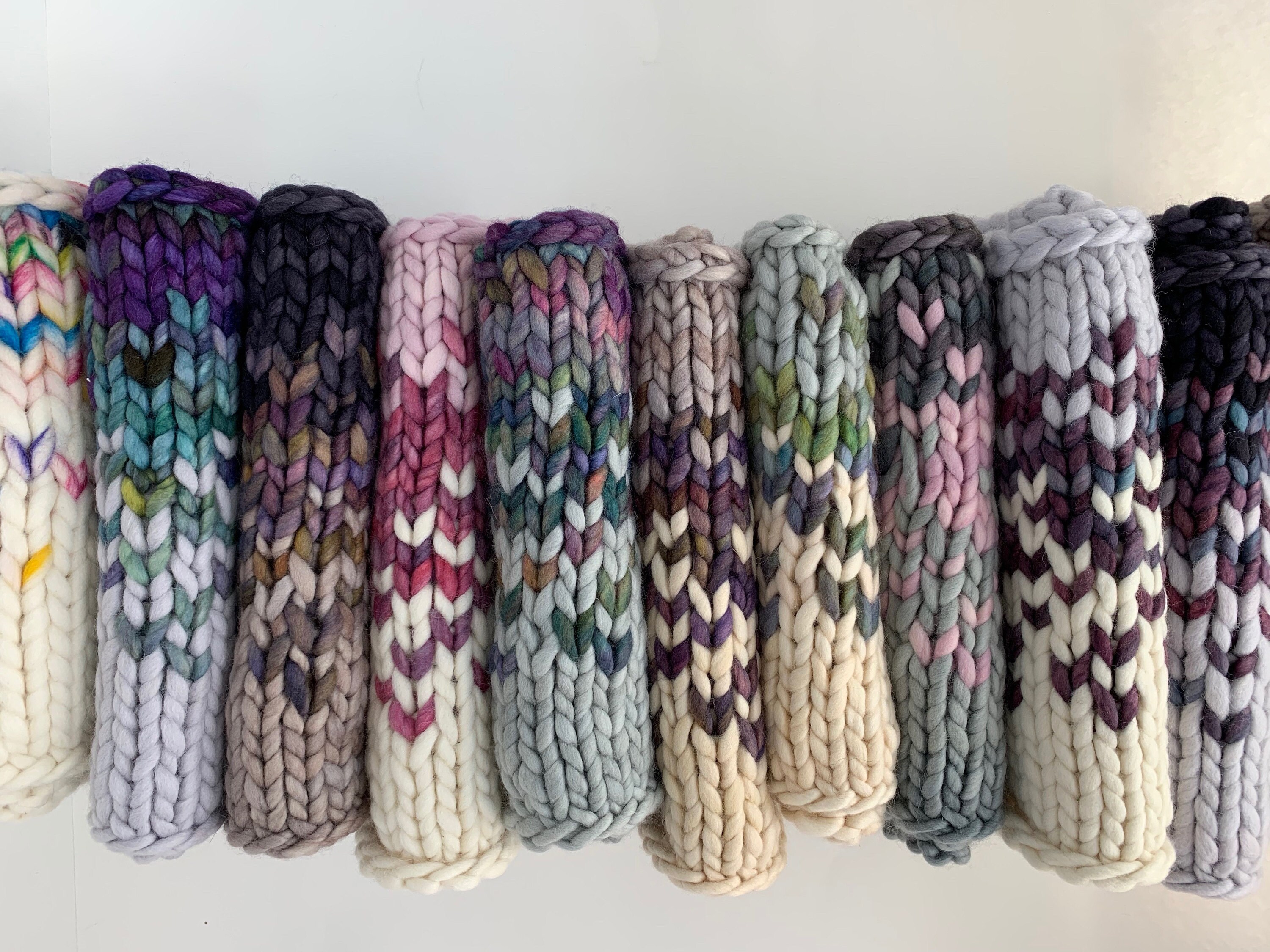 These merino wool cowls pair great with the merino wool hat line. They're made with the yarn leftover from making hats, and typically will have a coordinating hat! Send me a message if you need help finding a matching hat. 
This merino wool is hand-dyed in tiny batches of five skeins, so each cowl is truly unique. They are a fitted cowl, perfect for keeping your neck warm without being heavy on your shoulders, and tuck nicely into a zipped up jacket. 
Textured Wool Hats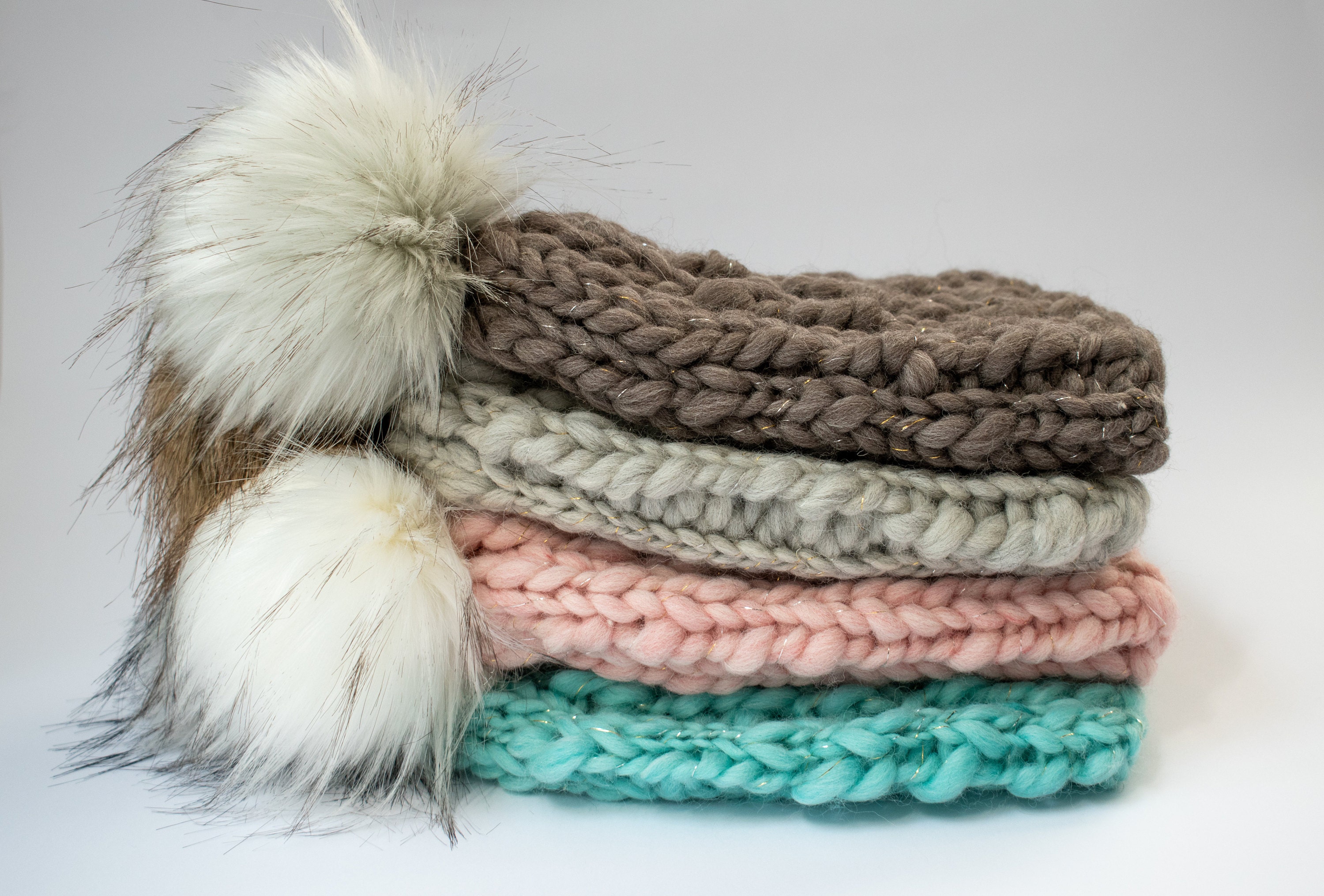 I fell in love with this yarn last year and had to find a way to share it with you! These are the ultimate fluffy, cozy hat for those who want to surround themselves with softness. This one's like wearing a cloud on your head! This ribbed knit hat is made with a unique hand spun yarn that has a squishy thick-and-thin texture and a subtle silver and gold shimmer spun throughout. It's made with a thick wool, and is perfect for those who want a statement piece. This yarn is hand-spun by women in India, so you're supporting multiple women-owned businesses when you purchase one.
Let me help you shop!
With many craft markets canceled this year, I'm bummed I won't be able to see many of you in person. It always brings me so much joy watching you try on hats, pet the faux fur pom poms, and pick the perfect hat for you. Since it can be challenging to shop online, I created this try-on video so you can better see what the styles look like on and how they fit. I'll also be sharing try-on videos on Instagram again this year so be sure to follow along! You can always send me a question about fit of a particular style and I'd be happy to send more information.