We all know how important social media marketing is these days, and you'll often find me hanging out over on Instagram at @woollybear_knits. I have had a personal Instagram account since 2010 when it started. I created my knitting account in January 2019, and I grew my account to 10,000 followers within a year. I'm often asked how I grew my knitting-focused Instagram account so quickly. Some of it was luck, some of it was being shared by big yarn companies and knitwear designers, but a lot of it was just plain hard work. Today I'm sharing what has worked for me! This post will be focused toward knitters, but is relevant for other makers as well, just replace "knitting" with your craft!
Most Importantly
I would like you to know that it's important to be genuine and authentic. I'll be giving you the tips and tricks I used to grow my account, but I didn't do these things for the sole sake of growing my account or selling stuff. It's important to know who you are and what unique skills or perspective you offer, and lean into that. Do the work to find your voice and what makes you special or different from others and make sure your posts reflect that. You may not know that right away when starting your account, but if you've had your account for a while and haven't taken the time to figure that out, now is the time.
Ok let's dig in! 
Take high quality photos
Instagram exists because people like to look at pretty pictures. My photos still need some work, but I try to take clear, high-resolution images with natural light. I know this is hard for people who work during the day, don't have a nice phone or camera, and have limited time and sunlight. In this case, I say batch your photos and take a bunch on a weekend so you have content for the week. I'd say only about 10% of my photos were taken on the day I posted them. I have a Nikon D3500 and an iPhone Xs. I take most of my photos for Instagram on my Nikon, but the iPhone works great too! I do not use presets or filters on my photos but have an editing process I usually follow to make my photos look consistent.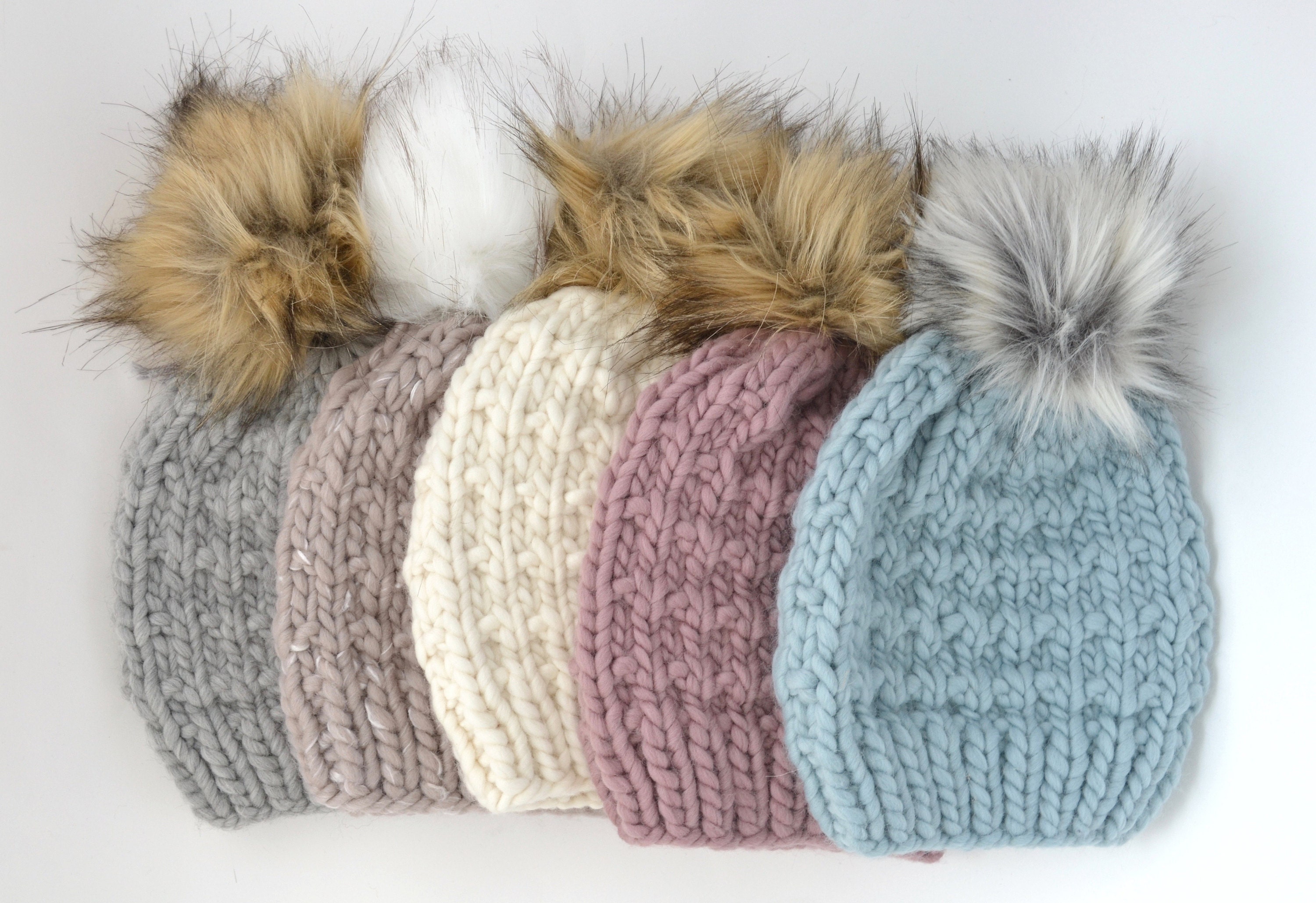 Content and brand
Take time to figure out what type of content you want to post about. For me, I have two audiences I try to appeal to: other knitters who may want to purchase my knitting patterns, and customers who want to purchase my finished knitwear. Sometimes I find it hard to market to both audiences. I worry that knitwear customers may get tired of seeing all my posts about yarn or me talking about knitting. I'm still working this one out!
I have "categories" of types of posts I typically do. I like to mix it up so my content stays fresh and not too repetitive, but still cohesive. Here are my categories:
Finished knits that are for sale
Outdoor photos of my knitwear
Materials or behind-the-scenes
Photos of my knitting patterns that I sell on Etsy and Ravelry
Tips and tutorials for knitters
When new potential followers visit your profile, they'll see your profile text and then your most recent posts. Make sure that what they see is a good representation of the content you offer!
I worked with a graphic designer last fall, and she helped me with a color palette that reflects my brand. I tend to stick with this palette so my photos look cohesive. I also use Planoly to plan out my posts so they look visually appealing. I won't post similar photos of materials two days in a row, rather I would post a photo of a hat for sale one day, and a photo of materials or styled knitwear the next day. 
Here's an example of how my feed looks with my color palette as well as a variety of categories of posts.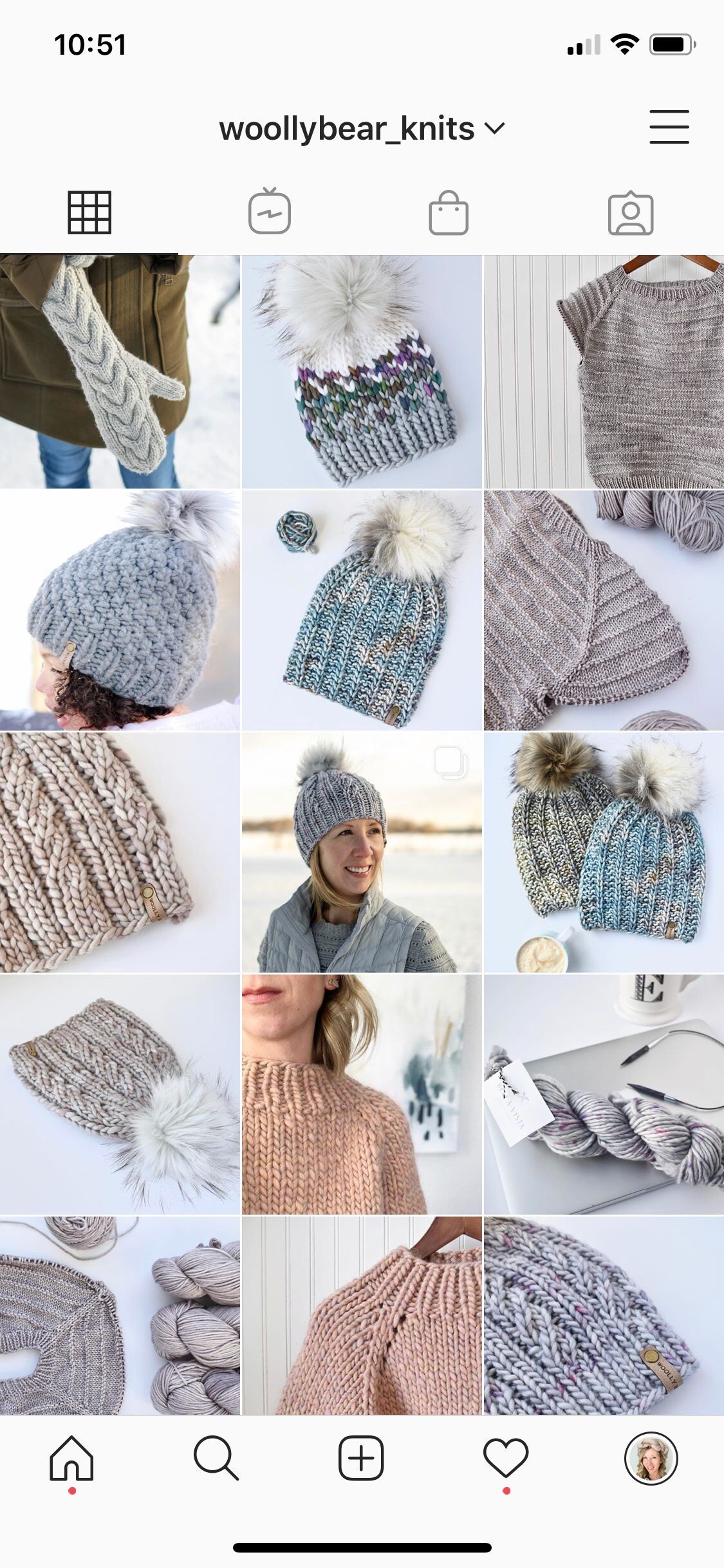 Engage
Follow people. Comment on photos (don't be spammy, but if you have something to say or a question, post a comment!). The more often you like things or write comments on other people's photos, the more likely others will click on your profile and maybe follow you. Write captions that invite conversation and comments relevant to the picture you post. Share other people's work that you like in your stories and say something nice about it. When people knit my patterns and tag me or use the hashtag I list in my pattern, I share their photos to my stories as much as I can. I often share a "follow friday" of makers' accounts of other people's accounts I love.
Tag and use hashtags
If you're knitting a pattern, tag the designer and use the hashtag given in the pattern. They might share your photo, and you will help others searching the pattern's hashtag to see what others have made. Tag the yarn, materials, or tools you're using, and maybe that company or account will share your work. Use relevant, searchable hashtags. Take time to click into hashtags others have posted on similar photos to yours and use them on your post.
Be consistent
Post and engage consistently. Instagram has an algorithm for how often your posts are shown to others. The more you interact in the app, the higher your photo and account will be ranked in the algorithm. I post pretty much everyday and try to interact as much as I can (yes, it's time consuming, and yes, I'm working about how to have better boundaries and balance of not spending too much time here)! I personally admire accounts that are cohesive (in terms of color story, photo style, or filter) but not too repetitive ("didn't we just see that same photo from you last week?").
Make other designer's patterns and try test knitting (or crocheting)
Most designers will ask for pattern testers before they release a pattern to help work the kinks out, but also to help market and promote their pattern! If you have the time and resources, it's a great way to connect with others in this community. Most designers will share your test knit photos or give you a shout out during their pattern release (I know I always do!). Test knitting or test crocheting is also a great way to meet new maker friends.
Lastly
Not related to growing your following, but general advice. Comparison is the thief of joy. Come to Instagram for inspiration and community. If you're following people that make you feel inadequate, sad, jealous, or angry, unfollow those people (or at least mute them). You don't need that in your life. Take a break for a while (people will likely not notice) if you need to. Likes and comments do not make up your self-worth.
Hope this helped. I hope you join me on Instagram, and if you do, I'd love you to leave a comment and say hello!
Feel free to pin this image to Pinterest to save for later! You can also follow me on Pinterest where I save other helpful maker-focused business tips too.